Vermont 251 Club
About the 251 Club
The Vermont 251 Club is an organization whose members attempt to visit every town in the state of Vermont. Those who visit all 251 towns are known as, "plus" members.
The 251 club was first suggested in 1954 in a Vermont Life Magazine by commentator Arthur Wallace Peach. The club meets twice a year. A newsletter is also distributed by snail mail to club members.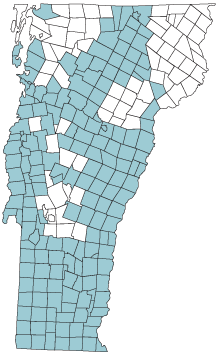 Our Participation
Corin and Jared started documenting town visits in 1999. We chose to document our adventures by taking a picture of ourselves in each town, preferably in front of a building or object that had the town name on it.
Towns We've Documented
As of 10/08/2006 we have documented ourselves in 182 (72%) towns. Click the map to see a larger version. The towns in blue are ones which we have documented our visit.
Photo Gallery
We document each town with a photo. Follow along in our photo galleries:
05/26/2007 - Danville, Walden
12/24/2006 - Buel's Gore
11/05/2006 - Plymouth, Shrewsbury
10/22/2006 - Newbury, Ryegate, Barnet, St. Johnsbury
10/08/2006 - Bridgewater, Killington
09/10/2006 - Pomfret, Barnard
07/10/2006 - Huntington
07/09/2006 - Waltham, New Haven
07/05/2006 - Weybridge, Addison, Panton
09/26/2004 - Randolph, Tunbridge
08/08/2004 - Williston, Richmond, Bolton, Royalton
07/30/2004 - Mount Tabor, Wallingford, Mount Holly
07/04/2004 - Bridport, Cornwall, Whiting, Brandon, Sudbury, Hubbardton
07/01/2004 - Danby, Tinmouth, Middletown Springs, Ira, West Rutland, Castleton, Fair Haven, West Haven, Benson, Orwell, Shoreham
03/14/2004 - South Burlington, St. George, Hinesburg, Starksboro, Bristol, Ripton, Hancock, Rochester, Bethel
03/07/2004 - Londonderry, Weston, Landgrove, Peru, Sandgate
12/31/2003 - Baltimore, Ludlow, Andover, Windham
11/02/2003 - Shelburne, Charlotte, Ferrisburgh, Vergennes, Middlebury, Salisbury, Leicester
11/01/2003 - Glastenbury, Sunderland, Manchester, Dorset, Rupert, Pawlet, Wells, Poultney
10/11/2003 - Searsburg, Somerset, Stratton, Winhall, Jamaica
10/06/2003 - Barre City, Orange, Topsham, Bradford
05/25/2003 - Readsboro, Stamford, Pownal, Arlington, Shaftsbury, Bennington, Woodford
05/11/2003 - South Hero, Grand Isle
05/10/2003 - Hardwick, Greensboro, Glover, Barton, Sheffield, Wheelock, Stannard
04/20/2003 - Highgate, Georgia, Milton, Barre, Williamstown, Brookfield, Springfield
04/12/2003 - Dummerston, Newfane, Brookline, Wardsboro, Dover, Wilmington, Whitingham
03/23/2003 - Guildford, Vernon, Brattleboro, Marlboro, Halifax
08/27/2000 - Hartford, Norwich
08/21/2000 - Woodstock
08/20/2000 - Hyde Park, Morrisville, Elmore
08/13/2000 - Hartland, Windsor, Weathersfield, Rockingham, Westminster, Putney, Newfane, Townshend, Athens, Grafton, Chester, Cavendish, Reading, West Windsor
06/20/1999 - Sharon, Strafford, Theford, Bradford, Fairlee, Corinth, Vershire, West Fairlee, Chelsea, Washington
05/31/1999 - Stowe, Waterbury, Duxbury, Moretown, Waitsfield, Warren, Roxbury, Northfield, Berlin, Montpelier, Worcester, Middlesex
05/30/1999 - Eden, Lowell, Westfield, Troy, Newport, Derby, Orleans, Brownington, Coventry, Irasburg, Albany, Craftsbury, Wolcott
05/29/1999 - Burlington, Winooski, Essex, Colchester, Jericho, Cambridge, Johnson
Town Information
More information about every Vermont town can be found on the Wikipedia, "List of Vermont Towns". Demographic information was added using data from the US Census. Jared has also added location maps for all 251 towns. Wikipedia allows anyone to add information to entries, so you can help out too!
Joining the Official 251 Club
You can join the official 251 Club for $8.50 a year or $23.50 for 5 years. The primary benefit of joining is the Wayfarer newsletter. There are also two dinners held each year.
To join:
Call: 802.229.0253
Email: thevt251club <at> aol.com
Write: Bill Rockford, 40 Clarendon Ave., Montpelier, VT, 05602
Maps
Jared has created a town outline map. You can download it here in your choice of format:
Vermont Towns Map With Town Names ( Format: PDF )
Vermont Towns Map Without Town Names ( Format: EPS | PNG | GIF | JPG )
Northern Cartographic Vermont Road Atlas & Guide - Small pages means you have to go map to map more often. The spiral notebook makes the maps lay flat, but there is an annoying gap in between pages. Road size/grade is detailed.
Delorme Vermont Atlas - Maps are nice and large. More GPS tick marks. Road details aren't always clear. We've hit more than one road that was impassible that looked like a real road on the map. Road names on map don't always match what's on the road signs. The latest edition may have improved since the E911 implementation around Vermont.
Vermont Center for Geographic Information
Vermont Agency of Transportation Town Highway Maps
Other Vermont & 251 Club Related Resources
List of Vermont Museums - A Wikipedia page Jared created. Please help expand it.
Libre Map Project : Vermont - A map project Jared started. You can download detailed USGS topographic maps of Vermont, search for place names, and even download over 11,000 Vermont waypoints for your GPS unit.
Curious New England: The Unconventional Traveler's Guide to Eccentric Destinations - The Authors were on "The Front Porch" on NHPR on June 25, 2003. It covers many odd and interesting things to see while traveling in Vermont.
Happy 50th, 251: Rutland Herald article about the 50th anniversary of the 251 Club.
251 Club celebrates 50 years: Burlington Free Press article about 251 Club's 50th anniversary.
Vermont Life Articles about the 251 club can be found in the following issues (if there are others, let me know):
Page last updated: 10/21/2006